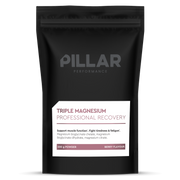 TRIPLE MAGNESIUM POWDER - Natural Berry
Description

TRIPLE MAGNESIUM features three select forms of bioavailable magnesium, providing multi-action support for neuromuscular function and recovery. Magnesium is also used to support the recovery phase after physical activity, including muscular aches, pains, cramps and spasms.

Our TRIPLE MAGNESIUM powder is uniquely flavoured using natural strawberry and beetroot extract, which contains a special combination of compounds not found in many other foods. PILLAR has included beets in this recovery formulation as they have been associated with a huge range of benefits, notably cardiovascular health and blood sugar support.
Key Features

Natural berry flavour.
Three specific forms of magnesium for absorbability.
Supports muscle health.
Reduces muscle cramps.
Developed with Magnesium glycinate dihydrate to relieve sleeplessness.
Supports nervous system health.
200 g powder (50 doses).

A Product Fact Sheet is available for download above.
Ingredients

Each 4g serve contains:

Magnesium citrate – 258.88 mg
equiv. elemental magnesium - 40 mg

Magnesium amino acid chelate - 840 mg
equiv. elemental magnesium - 168 mg

Magnesium glycinate dihydrate – 341.88 mg
equiv. elemental magnesium - 40 mg

Total Elemental Magnesium - 248 mg

Ingredients: magnesium amino acid chelate (soya), magnesium glycinate dihydrate, magnesium citrate, beetroot, acid (citric acid), bulking agent (silicon dioxide), maltodextrin, sweetener (sucralose), berry flavouring.
How to use

Adults: Take two (2) x 2g scoops per day with 200ml of water.

Do not exceed the recommended daily dose.
Food supplements should not be used as a substitute for a varied, balanced diet and a healthy lifestyle.
Keep out of reach of young children.
Product may produce a laxative effect.
Do not use if seal is broken. Store below

 

30˚C.
Dietary

Vegan.
Free from gluten, dairy, nuts and egg.
Contains soy derived substances, sulfites and sucralose.
Testing Certificate

TRIPLE MAGNESIUM is Informed Sport Certified.

To obtain the relevant Batch Certificate for this product, head to our Batch Certificate Library and search for your product's batch number to find the corresponding certificate.

For any questions in relation to our certified products, please email customer_care@pillarperformance.eu
Frequently Asked Questions
Why is PILLAR magnesium different?

Most athletes have supplemented with 'Magnesium' at some point in time - often trying to support sleep, muscle recovery or to fix cramping issues - yet almost all have failed to find any noticeable benefit and thus stopped. The problem is these athletes are using products not designed for them. Pharmaceutical companies have always focused on mass sedentary populations, thus the 'forms' of magnesium and the potency within the formulations are not solving the need states of endurance athletes. PILLAR's Triple Magnesium range was purposefully curated to support sleep and muscle recovery for endurance athletes. Using leading sports science research, a selection of the most bioavailable forms of magnesium were formulated at appropriately high potency. While the pharmaceutical industry focuses on a sedentary demographic, PILLAR unapologetically supports performance outcomes.
Do endurance athletes require more magnesium?

Athletes require more. Full stop. Just like macronutrients; protein, carbohydrates, and fats, are required at greater levels for athletes. This same exists for micronutrients. Magnesium is depleted through sweat, urination, and lipolysis; all incurred at greater levels when undertaking endurance exercise. Therefore, those participating in endurance sports need to be aware that they deplete magnesium at far greater rates than sedentary people
How does magnesium aid sleep?

Magnesium is the vital micronutrient to support sleep as it is a cofactor in the hormone synthesis of serotonin which the brain transforms into melatonin.
What is magnesium (bis)glycinate?

Magnesium Bisglycinate is the combination of Magnesium bound to the amino acid, Glycine. Glycine works synergistically alongside many neurotransmitters – like GABA –to promote sleep and speed up the recovery process. It is well-tolerated and well-absorbed, unlike other forms of Magnesium (such as the cheaper, more commonly found Magnesium Oxide). For this reason, it is also far less likely to cause laxative effects or gastrointestinal stress.
When is the best time to take magnesium for performance outcomes?

The inclusion of magnesium Bisglycinate in TRIPLE MAGNESIUM, in addition to the other highly bioavailable forms, means this product supports the nervous system and helps with sleep, muscle relaxation, and overall recovery. This makes it best suited to take in the evening, about an hour or so before bed for most people.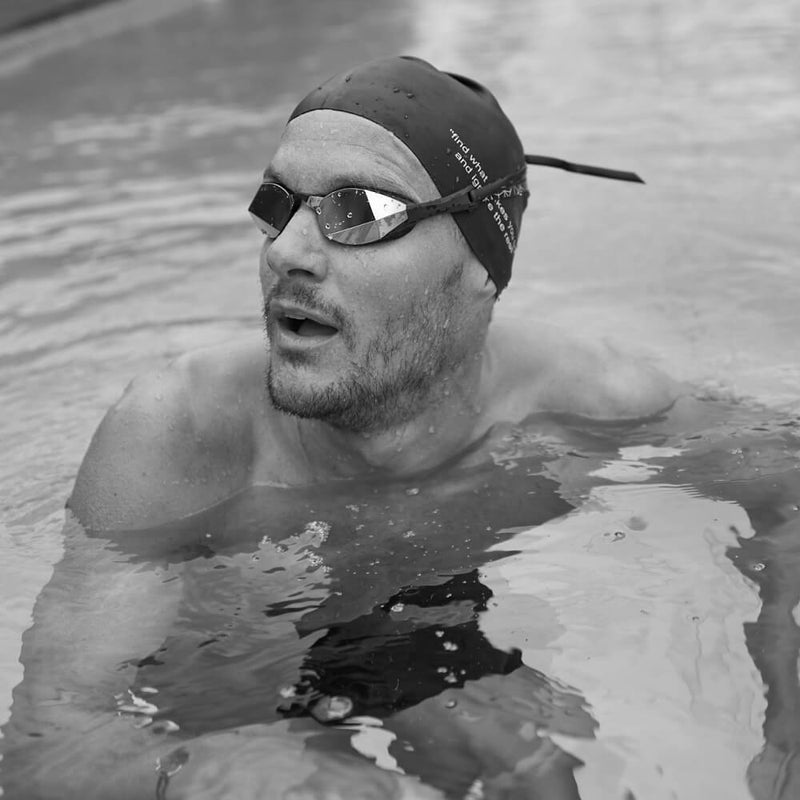 Great supplement. Use it every evening to aid recovery and sleep.
too many filler ingredients
I just want magnesium but this is packed with other stuff. I won't be buying again.
Didnt work for me but may work for you
Absolutely no change in my sleep, can view it from my woop and Garmin data. Didn't feel worse, but just didn't change anything for me. I am a terrible sleeper so maybe it's just me and someone else may get positive results from it and I am just the anomaly.
Recovery and sleep Improvment
Great taste and noticeable improvement in sleep and recovery.
Fantastic product
Great product - stopped my cramps after heavy excercise. And improved my sleep too. Definitely recommended!