FuelIn x PILLAR Performance
PILLAR Performance is Australia's leading sports
micronutrition brand, purposefully formulated to support the unique
micronutrition requirements of endurance athletes.
PILLAR is proud to partner with FuelIn to offer their athletes world-class micronutrition!
As part of this partnership, PILLAR is offering FuelIn
atheltes an exclusive subscription offer.
Simply purchase any PILLAR products on subscription, and we'll give you 50% off your first month.
Your subscription will then be renewed at a frequency of your choosing (every one, two or three months), where
you'll receive an ongoing 15% discount, plus free shipping!
Use the code: FUELIN to redeem this offer!
Description TRIPLE MAGNESIUM features three select forms of bioavailable magnesium, providing multi-action support for neuromuscular function and recovery. Magnesium is also used to support the...
View

Product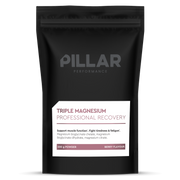 "When searching for supplements that support an athlete, the two immediate concerns are quality and active ingredient composition. With PILLAR Performance, FuelIn knows that our athletes are receiving the highest quality supplements due to diligent sourcing along with forumulated dosages that work. 
Our primary concern for our athletes is health, as such, we are proud to be working alongside PILLAR Performance in their quest to raise the bar in the convoluted supplements world."
Scott Tindal
Performance Nutrition Coach & Co-Founder
FuelIn